Nau mai, haere mai To The Hands to Heal Massage Therapy Massage Clinic
OPEN 7 DAYS 9.30am - 7.30pm
Exciting News: We Are Moving Location...
4/10/2022 Hands to Heal Massage Therapy - Suite 3 - 235 State Highway 2, Bethlehem, Tauranga City, Bay of Plenty, New Zealand
After 8 years Providing Massage Therapy on the corner of State Highway 2 and 206 Moffat Road, Hands to Heal Massage Therapy is on the Move!
New Location information: On the 4/10/2022 we will be providing the same Genuine Massage Therapy up the road (Heading North on State highway 2) at Suite 3, Level 1 - 235 State Highway 2, Bethlehem, Tauranga (Up the internal stairs - left at the Top) The same block of shops as Bethlehem Butchers, Kofi Stop, Bethlehem Hairdressers and The Bethlehem Fish N Chip Shop...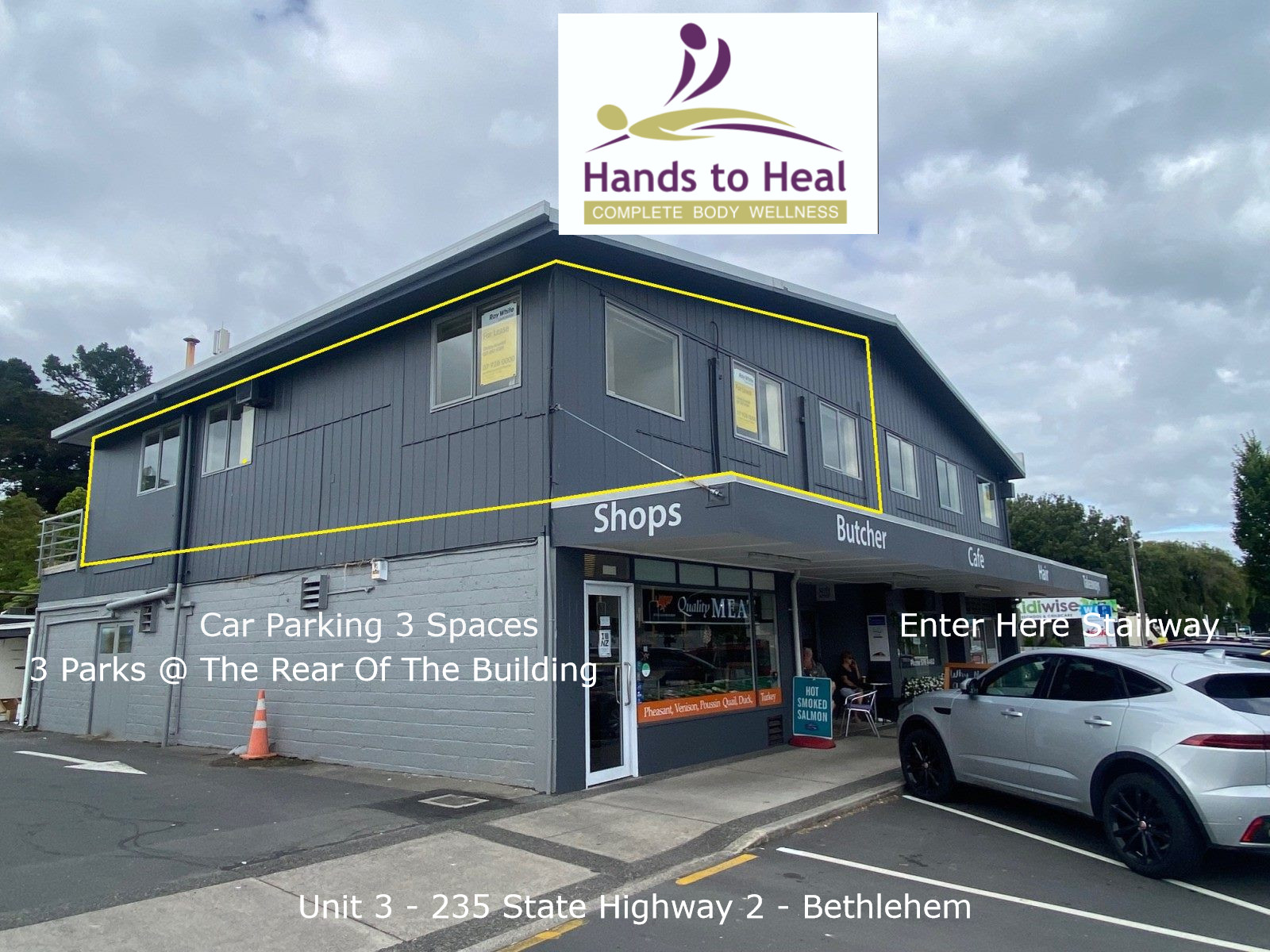 The new clinic will be upstairs, internal access entryway between Kofi Stop & The Bethlehem Hairdressers. will post videos and photos from 20/10/2022 and an email with final details.
We do appreciate your customer loyalty over the years, we are so happy that you have experienced and are experiencing Genuine Massage Therapy the way it has been for tens of thousands of years for your Health & Well Being, it is about you and your number 1.
There will be several subtle changes being made (online booking systems, tech/communication hosting, power companies, BYO water bottle..
From Toni, Parris, and Erina* and Hands to Heal Massage Therapists, Thank you.
LHands to Heal Massage Therapy Clinic - 206 Moffat Road - Bethlehem - Tauranga City - Bay of Plenty
Hoki mai to Hands to Heal Massage Therapy
Hands to Heal Massage Therapy is an Independently owned and operated Massage Therapy Clinic that was established 12 years ago, right here in Tauranga City, the beautiful Bay of Plenty by founderMiss Toni O'Daly, Kai Ora.
Hands to Heal Massage Therapy Clinic caters not only for individuals but also families too, our ethos is to return you too "Complete Body Wellness" when other systems may have failed to do so. At Hands to Heal Massage Therapy we use a multi-modality system; a combination of Indigenous/Western & Eastern styles making your Massage Therapy session tailored specifically to your needs. Our highly skilled professional soft tissue therapists will assess your needs and will help you choose an effective Massage Therapy treatment option that's exactly right for you.
We have many Massage Therapy modalities available from Deep Tissue Release, Relaxation, Remedial (Injury's covered by some health insurances.), Therapeutic, Oncology, Ortho Bionomy, Pregnancy, Shiatsu, Sports, Reflexology, Movement Massage, Manual Lymphatic Drainage, Japanese Shiatsu, Myofascial Release, Infant, Junior, Senior massage.
'Move towards your Complete Body Wellness Today
Living Life On Your Own Terms!'

ONCOLOGY~MEDICAL MASSAGE THERAPY
@Hands to Heal Massage Therapy
OM Massage takes both the state of the Mind and Body to a deeper level of Relaxation Response/Reflex. As well as the physical, there is also the Mind Power strength that enables us to deal with or hinder how we can move forward from the Traumatic time we have been enduring.
During an OM Massage the mind can let go and really relax, this allows the central nervous system to scan the body, get a better understanding of where the different body systems are at. This gives the brain time to formulate a plan to help it to get the body to a space where healing, and/or coping, can take place at a better and more controlled level of awareness.
Oncology Massage for P.T.S.D, Chronic Pain, Anxiety, Post Surgery Recovery, Fibromyalgia, Arthritis For More Information Contact Us And We Will Assist You On Your Recovery Pathway
Hands to Heal Massage Genuine Massage Therapy
28 Reasons Why Massage Therapy Could Benefit You...
RSI/OOS Treatment
Decrease Stress
Pre/Post Natal Discomfort
Injury Recovery
Increase Range of Motion
Relieve postoperative pain
Anxiety/Depression Relief
Neck/Back/Shoulder Pain Relief
Chronic Pain Treatment
Sleep Loss/Deprivation Relief
Lower Back/Sciatic Nerve Relief
Kyphosis and Scoliosis
Carpal tunnel Syndrome
Occupational Stress
Headache & Migraine Relief
Arthritis Pain Relief
Improves Circulation
Joint Mobilization
Children's Growing Pains
Increases Metabolism
Enhance Exercise Performance
Post-Traumatic Stress Relief
Lymphoedema
TMJ/Jaw Pain Relief
Chronic Fatigue Syndrome
Improve balance in older adults
Stroke Recovery
Reduce Chemo-Related Nausea
Over 4000 Years Ago The First Recorded Holistic Medical Records Included Massage Therapy As Part Of The Prescribed Pathway To Your Complete Body Wellness.. Thereby The Term "Homeostasis" Is The Foundation Of The Hippocratic Oath Signed By All Allopathic General Practitioners In Modern Medicine Today!
Terms & Conditions - Policies - Resources - Community - Jobs - Log In
(C) Copyright 2021 Hands to Heal Massage Therapy Ltd. (R) All Rights Reserved
Another Website Development By...