Hands to Heal Massage Therapy - Massage Rates
OPEN 7 DAYS
9.30am - 7.30pm
Massage Therapy Rates 2023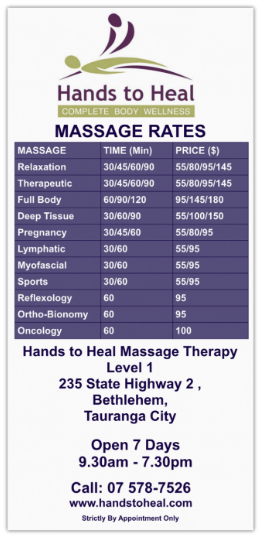 Rates Review Notice July 2023:
Hi all - Yes, we have held off for an amazing time; In fact, all our lessors, product/power suppliers, bank fees, software subscriptions, and of course fuel have all dramatically increased their prices, some for the third - fifth time since we have embraced the 'New Normal'?!! 2019!! and that was the last time Hands to Heal Massage Therapy increased our massage therapy rates, and we are still doing great.
Therefore, we have now phased in our new pricing/rates. Naturally, you still receive *genuine time on table, high quality balm/wax and oils, International and New Zealand highly qualified professional soft tissue therapists, professional advice.
Thank you for your ongoing custom and know that we only supply the best quality affordable massage therapy for you and your future.
From Toni, Parris, Erina*, Gigi and Craig, Coco (emotional support therapy dog) and luna (cheeky little stray cat that lives in the building somewhere) we thank you so much for your ongoing custom and you know we only supply top quality massage therapy for you and your future, 'Massage For Life'.
PS: Look out for our New Package deals, Discount/Promo Codes, Youtube info videos and Instagram coming very soon.
Myofascial Release Massage Therapy
Myofascial Release Massage Therapy Click Here
The Science of Massage
There now has been global collational of combined scientific research confirming the many benefits of Massage > Massage Therapy.
Massage Therapy contacts the biggest organ in your whole body?! Your Skin (The Integumentary System) Massage will stretch and stimulate with pressure, most other organs, vessels, lymph nodes, glands, fascia and of course your soft tissue fibers. This leads to the benefical effects for your Heart Rate, Blood Pressure, Digestion, Respiration and of course your Immune System.
Massage Therapy also has scientific proven effects on your Dopamine, Oxytocin, Serotonin and Endorphin levels dramatically de stressing your central nervous system, thereby inducing a range of benefical psychological benefits as well. The Modern Quantified Science of Massage is proven to be a Holistic Therapy, thereby makes it the oldest known form of medicinal treatment (4000 years+)
We encourage and support you to find the Highest Quality Massage Therapist's on your return to your 'Complete Body Wellness'...