Hands to Heal Massage Therapy - COVID 19 INFORMATION
Open 7 Days 9.30am - 7.30pm
Covid 19 NZ Government Hygiene Guidelines
Due to the current coronavirus (covid-19) and some correspondence requesting advice, Hands to Heal Massage Therapy recommends following Ministry of Health (MOH) guidelines (updated regularly) or contacting your local region's health authorities. Click below.
Ministry of Health Covid 19 website link
Hands to Heal Massage Therapy: SARS-COVID-2 Delta

SARS-COVID-2 Delta Strain
Hello Every just a friendly reminder, that in Tauranga City - Bay of Plenty region Covid 19 Protection Level Framework Level Orange - Phase 2 - Traffic Light System.
We would like to thank all our customers for your ongoing support and understanding during this time, it has been a major achievement to get where we are today in Aotearoa - New Zealand 'Stand Up Be Proud'
ORANGE LEVEL PROTOCOL
7 Day stand down on both of your covid 19 vaccinations (This is also for the Influenza vaccination) to let the medicine run it's full course through your systems.
3-5 Day stand down if your awaiting Covid 19 Swab test results
Before Entering Hands to Heal Massage Therapy Clinic:
Check Your Health Status - Feeling Unwell, Cough, Sore Throat, Nausea, Sore Stomach, Cold Symptoms

DO NOT ENTER

Please make sure you wear your NV95 face mask
Upon entering Hands to Heal Massage Therapy Clinic
Please wear your NV95 face mask in the clinic wating area
Hand Sterilization Available.
One (1) meter distance in the waiting area.
Use your own mobile device to fill in online COVID 19 information or client intake forms prior to your massage therapy appointment.
Online: Pre Pay Via Timely Stripe. In Clinic Tap n Go EftPos Debit Card Transaction (Cheque/Savings only)
Supply your own water bottle.
Clink on the link for more information. Click Here
Below is information regarding our Clinic Hygiene product we use on all surfaces and also on the Massage Therapist's hands.
Zoono - Antimicrobial Products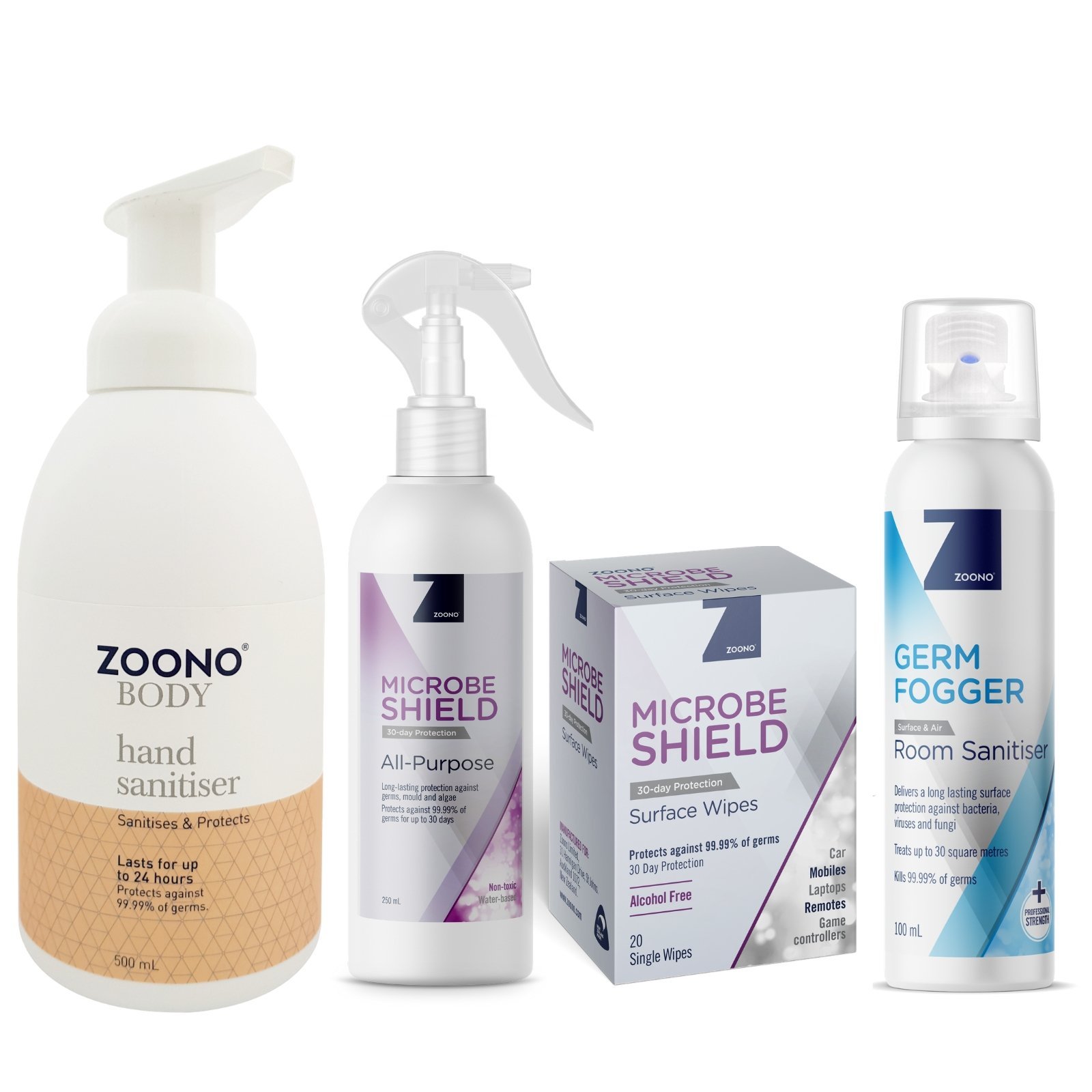 This is the future of antimicrobial technology. Zoono skin & surface sanitizers are formulated to kill the toughest germs for longer, without nasty chemicals. Long lasting advanced antimicrobial technology is the solution you hadn't realised had been invented! Protection against bacteria is more important than ever as microorganisms evolve, and antibiotics become less effective. Zoono significantly reduces the spread of harmful bacteria, viruses, fungi, Mould and yeast. This innovative technology will last up to 30 days on treated surfaces and up to 24 hours on skin. Zoono technology is water-based, alcohol-free and free from dangerous chemicals. This is truly the next generation of antimicrobial technology.
We have a range of Zoono - Antimicrobial viralhome products available - take a look next time your in for your massage therapy at Hands to Heal Massage Therapy .
We are all looking forward to seeing you at Hands to Heal Massage Therapy and hope that we can get back on track and continue to make a difference with your well-being and return to your 'Complete Body Wellness'
Kindest Regards
Toni O'Daly Managing Director