Hands to Heal Massage Therapy - Special
Concession Cards
Lets face it we all like to SAVE $$$?!
You can purchase your pre paid Hands to Heal Massage Concession Card today..
You get the same top quality massage, genuine table time and of course our highly professional massage therapist who cater for your every knead.
Prices below: Relaxation or Therapeutic Massage Only
60 or 90 Minute - 5 or 10 Massage Therapy Treatments
5 x 60 Minute Massage $320

5 x 90 Minute Massage $420

10 x 60 Minute Massage $600

10 x 90 Minute Massage $800
Buy In store or Online Today..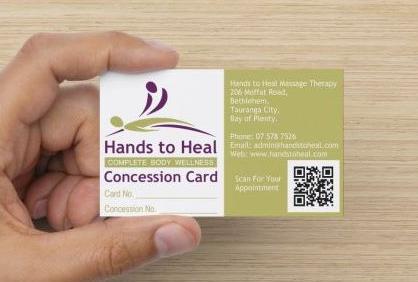 GREAT NEWS.. October we will be launching a new concession card product.
Family Concessions..
Yip Mum, Dad, Aunty from Howick, even Nana will be able to use a Hands to Heal Massage Therapy Concession Card. Watch this space..